Organizational
Transparency
Home
> Products >
Kingdom Blocks
We at Kingdom Blocks are proud to provide excellent standards of service with the latest cutting edge German technology.
Kingdom's range of blocks and paving offers effective solutions for a wide range of applications.
Continual research and development has resulted in a range of building blocks that meet the demands of the modern construction industry.
Our extensive product range means that a variety of tried and tested products can be offered for wall, floor and below-ground constructions. Kingdom manufactures its blocks to a quality assured system in accordance with international standards, ensuring compliance with all relevant standards and codes of practise.
Kingdom Blocks Product Range
We offer a range of blocks from four to twelve inches, but can additionally design to suit any requirement.
Kingdom Interlock Pavers come in a variety of colours and pigments that are imported.
Block Varieties

Block Properties

Hollow concrete blocks
13 types of interlock bricks
Key blocks
Solid blocks
Fair faced blocks
Roof blocks
Insulation blocks
Round blocks
Boundary wall blocks
A selection of Kerb stones

High insulation
The excellent thermal performance of Kingdom Blocks can reduce the need for additional insulation materials.
Fire resistant
All Kingdom Blocks' products provide excellent fire protection, thus meeting building regulation requirements.
Durability
Our products are strong and can be used in loadbearing walls for a structurally sound building.
Applications:
The high level of performance achieved by Kingdom Blocks, combined with the extensive product range offered, ensures that cost effective solutions can be achieved for wall, floor and below ground constructions. Our products are available for use in all of the following applications.
Basements
Foundations
Cavity walls
Solid walls
Partitions
Capabilities
Kingdom Blocks can produce 80,000 blocks per day and are available in 5 12.5 Newton per mm2. Kingdom also houses the capacity of producing 7,000 m2 of Interlock bricks in per day. We are proud to say that we are the only supplier and fixers of Interlock Bricks in Bahrain.
Expert advice
Kingdom Blocks customer services team is trained to interpret efficiently the individual requirements of the customer and advise on the best product relating to the application. At Kingdom, we are committed to the progressive employment of a skilled workforce of Bahraini nationals, involving training and development at all levels throughout their career.
Our Product Services department is dedicated to providing assistance with all product related issues. Whether you need advice on the technical properties of the blocks, or even the production of drawing details, our expert team are on hand to help. Technical advice, samples and marketing support are all just a phone call away to help our clients achieve their vision.
Project Management
Kingdoms team are here to support our clients from the planning and design stage to implementation, working closely with the project design team, the contractor and our own production team to ensure quality and expertise throughout the project.
Accomplishments
Kingdom blocks supplied and fixed 75,000 m2 of Interlock Bricks for the Bahrain Mall at Seef within a time frame of two and half months.
HOLLOW CONCRETE BLOCKS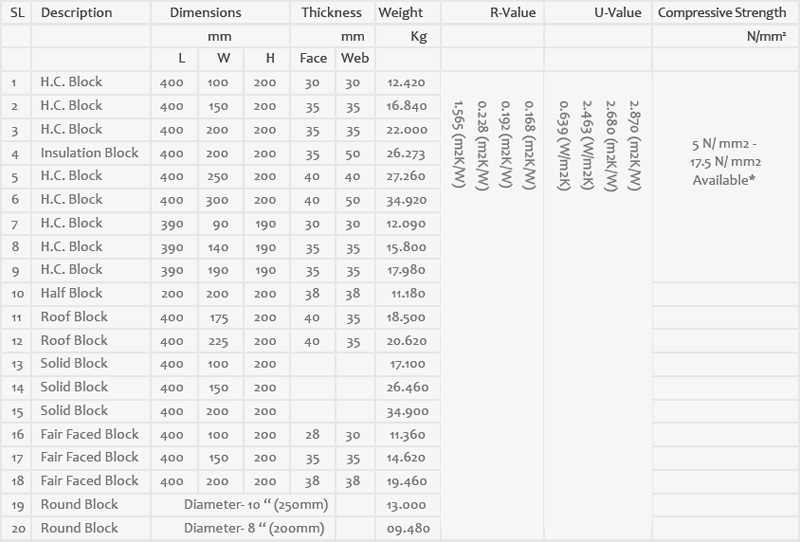 * Greater strengths can be produced upon the request of the customer.
PAVING BLOCKS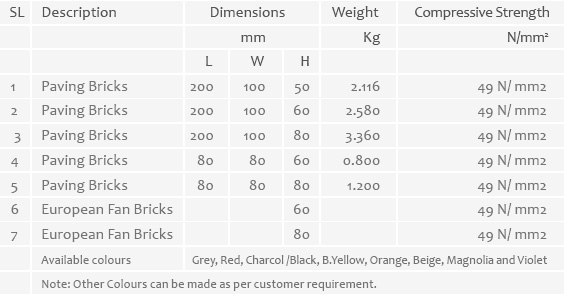 KERB STONE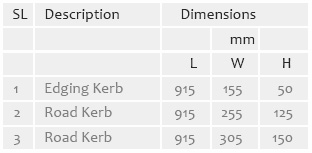 images

List of blocks:

1. 8 hollow block
2. 6 hollow block
3. 4hollow block
4. Insulated block
5. Edging kerb
6. Kerb stone
7. Kerb stone
8. Yellow Paving bricks
9. Red Paving bricks
10. 3-D Paving bricks
11. Key block
12. 100x100 Paving brick
13. Fan bricks
14. Hexagon bricks
15. Zig Zag bricks
16. European Fan